Welcome to the WillSanta.com store!
Guaranteed Secure Online Ordering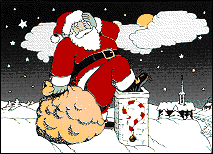 Musical themes and humorous illustrations bring this Christmas card collection to life.
Each Christmas card incorporates the unique symbol of a CANDY CANE QUESTION MARK with a SLEIGH BELL attached.
Christmas card designer, Curtis McKonly, created this artwork based on his song
"Will Santa Come This Year?", a symbolic representation of every child and adult's sentiment during the Christmas season.
Listen to Trumpeter Rick Henly's recording of "Will Santa Come This Year?", arranged by Curtis McKonly while you shop!
Please view our new addition of E-Cards on this site. You can now send an original Christmas card to your family and friends, and also select original Christmas songs and arrangements to accompany the card. A great gift and personal message for the holiday season.

Original Christmas songs, sheet music and the WillSanta Kids coloring book complete the collection.


They're fun!
We would like you to meet the WillSanta Kids, a new generation of cartoon characters.
Go to FOR KIDS to view and download their festive Christmas scene for coloring.